NEW AC | CEDAR RAPIDS, MARION, IOWA CITY
Purchasing a new AC for your home is certainly an investment. As the weather starts to warm up in Eastern Iowa, we begin to think about our home comfort in the days ahead. Is it time for a new AC?
If your AC is approaching 18 years of age or you have been experiencing issues such as Freon leaks in recent years, it may be time to consider replacement. Air Conditioners play an important role by pulling the warm air out of your home and replacing it with cold, conditioned air. Each AC unit operates with a variety of components (evaporator, condenser, blower, compressor & fan) that work together to cool your home.
When searching for a reliable, affordable and trustworthy Heating and Cooling company in the Cedar Rapids and Iowa City metro area – look no further than Colony Plumbing, Heating and Air Conditioning. We are Eastern Iowa's Most Trusted Home Comfort Specialists. We offer a variety of new AC options that will pair with your existing furnace, or work even more efficiently with a new furnace. You can count on us to provide Free Detailed Estimates on replacement HVAC equipment perfect for your application.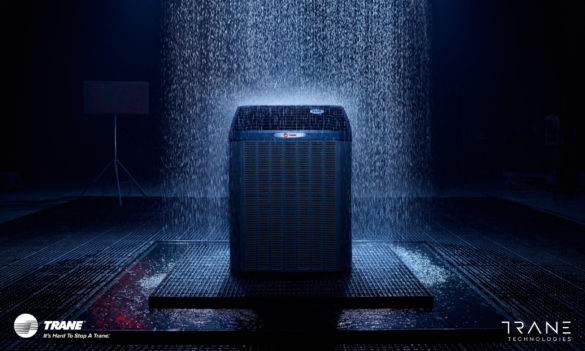 BEST AC COMPANY IN CEDAR RAPIDS
We are your local Trane Comfort Specialists™. We have been awarded this prestige title as we are committed to being the best in installation, service, customer satisfaction and employee training. If you are in need of a new AC – please call, text or email us and we will coordinate a Free Estimate and answer any questions you may have. info@colonyheating.com  |  319-364-HEAT (4328).  We look forward to the opportunity to provide you with equipment that ensures your family has superior comfort year round.