New Geothermal System | Cedar Rapids & Iowa City
Comfort With the Future in Mind. Geothermal offers many benefits for the environment and your wallet. Tim Stecklein is amongst the best in the industry. We are your local Geothermal experts. Please contact us with any questions regarding your new geothermal system installation, maintenance or repair in the Cedar Rapids, Iowa City metro area. Learn more about the current Government incentives!
Safe, Clean Operation: No flues, no flame, no dangerous carbon monoxide and a factory-sealed refrigerant circuit make Geothermal technology an attractive alternative for safe, clean and environmentally friendly comfort for your home.
Energy Efficiency: Geothermal units operate more efficiently than ordinary heating and cooling systems, saving you up to 60% in most cases and providing virtually FREE hot water.
Durable Design: Geothermal heat pumps last longer because they are housed indoors and protected from harsh weather conditions. No defrost cycles are needed, which means less stress on critical components and no loss of operating efficiency.
Better Comfort: Constant, even temperature and humidity control. Gone are the uneven temperatures experienced with ordinary furnaces and poor dehumidification you get from standard central air units.
Geothermal systems operate by using a sealed underground piping loop filled with circulating water. A high-efficiency ground source heat pump exchanges heat between your home and earth. Call the Guys you Can Trust today to find ways to save money with geothermal.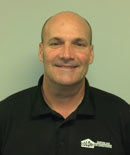 Tim Stecklein
Residential New Construction Manager
With Colony Since 1988