PLUMBERS IN CEDAR RAPIDS, IOWA CITY & SURROUNDING COMMUNITIES
Are you looking for local Plumbers in Cedar Rapids, Iowa City & surrounding communities that can service you quickly at affordable rates? Trust Colony Plumbing to get the job done right! Whether your home has a leaky faucet or a burst pipe – we can certainly get you fixed up in no time!
We are Cedar Rapids, Iowa City & surrounding communities' Trusted Plumbers. We offer full service Plumbing for Residential & Commercial applications with 24/7 Emergency Service available.
Our Plumbing Services:
Clogged Toilets
Sinks, Toilets & Faucets
Showers & Tubs
Bathroom Remodels
Leaks Detected/ Repaired
Sump Pumps Installed & Repaired
Water Heater & Tankless Water Heater Maintenance
Commercial Plumbing Service Agreements
Water Lines Installed & Repaired
Gas Lines Installed & Repaired
RPZ (backflow) Testing
Water Softener Install & Repair (Water-Right Softener Specialists)
Ejector Pumps
Urinal Repair/ Replacement
Outside Faucet Repair/ Replacement
Water Filtration
Boiler Systems (water)
Infloor Heating
Garbage Disposals
And More!
We offer a wide variety of your favorite brands of Faucets & Sinks, Tubs & Surrounds, Shower Doors & Custom Showers, Toilets & Accessories, and Plumbing Specialties. We offer free estimates on new equipment + remodel/ renovations. Give us a call today to schedule your bid!
Colony Plumbing adheres to the same high standards as our Trusted Heating and Cooling department. We pride ourselves on quality craftsmanship, outstanding customer service, and attention to detail. You can count on Colony Plumbing to handle all your Plumbing needs. Call us today – 364-HEAT (4328).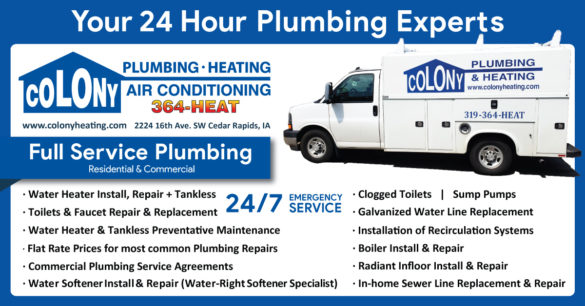 Check out this PowerHouse® TV Water Heater Maintenance edition: Featuring Justin Ross from our Plumbing Department.