FURNACE REPLACEMENT | CEDAR RAPIDS | NORTH LIBERTY | IOWA CITY
Is it time to replace your Furnace? To avoid your Furnace going out when you need it most, let's take a look at a few warning signs.
Your Furnace is more than 15 years old
You may hear stories of friends or family members whose Furnaces last 30+ years. Sure, but this is very rarely the case. The average life expectancy for a Furnace is between 16 and 20 years. It is important to start thinking about replacement at the 15 year mark and educating yourself about different types of Furnaces (Click Here). To extend the life of the unit and have the peace of mind everything is looking and working correctly, we recommend having annual maintenance (or a clean and check) performed by the professionals at Colony Plumbing, Heating and Air Conditioning.
Your Furnace is Loud
Furnaces make some noise when they turn on and off. If these noises become noticeably louder and consistent, it very well could be a sign it needs replaced. We receive calls every day describing noises such as:
Rattling – The Blower Motor and/or wheel may not be properly balanced or the duct work may not be properly secured.
Humming – Typically associated with the transformer, inducer motor or blower motor that may be starting to fail.
Popping – The internal components, for example heat exchanges/ burners could be reacting to temperature change.
Screeching – This could be an issue related to a failing belt, loose bearing or a bearing issue with the blower or inducer motor.
Your Energy Bills and Repair Costs are rising
Not all Furnaces are the same. New technology offered by Trane and Bryant will save you money on energy bills. If you are continually calling your repairman and experiencing a utility bill increase, it may be time to look into a new, efficient Furnace. Check out some differences Here.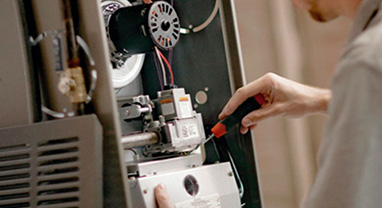 For Furnace Replacement in Cedar Rapids, North Liberty and Iowa City, "Call the Guys you Can Trust," at 364-HEAT (4328). Colony Plumbing, Heating and Air Conditioning has been servicing, repairing and replacing Furnaces in Cedar Rapids and surrounding areas for over 40 years! Call today for a free estimate.