HVAC MAINTENANCE PROGRAM
Why choose Colony's HVAC Maintenance Membership Program? "Dirt and neglect are the top causes of Heating and Cooling system inefficiency and failure. To ensure energy efficient system operation, it is important to perform routine maintenance. Proper maintenance by a qualified technician is one of the most important steps you can take to prevent future problems" (www.energystar.gov).

Service Agreements save you money. On qualifying programs, you will receive preferred billing on Service Agreements and Service Calls, meaning you will save at least 10% on Parts and Labor.
Your work will be scheduled before the busy season.
You will receive priority handling of your Service needs in case of an Emergency on qualifying programs.
Preventative Maintenance will prolong the life of the investment that you have made in your Heating and Cooling Equipment.
With energy prices rising, it will ensure that you are getting the most out of your energy dollars that you are spending.
Peace of mind that your equipment is running Safely and Efficiently.
Check out our four tiers of HVAC Program Benefits below. Please contact our Service Department to sign up. 319-364-HEAT (4328).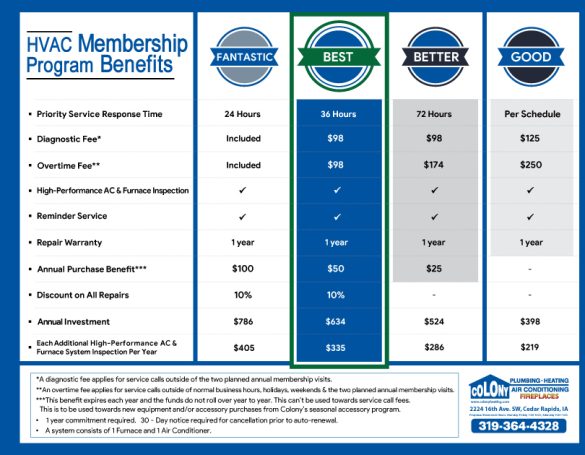 At Colony, service is a top priority. We take pride in offering our customers the most efficient, reliable and competitive priced services. Our trained technicians are available to service the residential, commercial, and industrial needs of Cedar Rapids and surrounding communities 24 hours a day, 7 days a week, 365 days a year. Give us a call today to learn more! "Call the Guys You Can Trust." 319-364-HEAT (4328).