FURNACE AND AIR CONDITIONER REBATES
At Colony Plumbing, Heating and Air Conditioning, our goal is to save you money and offer you the most efficient Heating and Cooling equipment. We have been a rebate program expert for over 40 years, servicing Cedar Rapids, Iowa City and the surrounding communities. Let's take a look at the savings.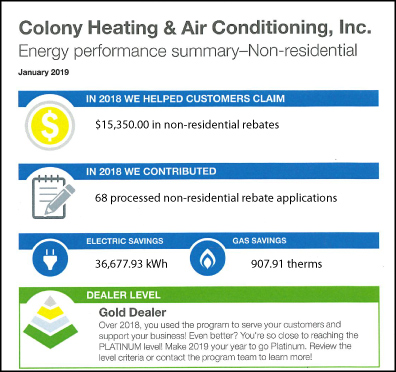 REBATES, REBATES, REBATES!
We are proud to be named a Platinum Dealer in residential, and Gold on the non-residential side. In conjunction with Alliant Energy, we have helped residential and non-residential home and property owners save $150,000 in 2018. Based on Colony's 2018 performance, it's clear we are a program expert amongst a select few.
We continue to find ways to save you money on your heating and cooling needs. If MidAmerican Energy is your primary utility provider, don't worry! We work in accordance with their rebate program as well.
There will be a new rebate announcement in April 2019 from Alliant Energy pending approval from the Iowa Utilities Board. In the meantime, Alliant will continue to pay rebate claims at 2018 levels. Currently, you can receive a $50 rebate for an Annual Tuneup. Join our Service Maintenance Agreement to receive benefits:
Receive preferred billing on service calls, saving you 10% on parts and labor
You work will be scheduled prior to the busy season
Receive priority handling of your service needs in case of an emergency
Colony's maintenance will prolong the life of the investment made regarding your Heating and Cooling equipment
You will have peace of mind that your equipment is running safely and efficiently
Keep in mind the temperatures must be above 65 degrees Fahrenheit for us to check the coolant level of your condenser.
BEST IN THE BUSINESS
If you are in need of a new Furnace or Air Conditioner, be sure to take advantage of the available rebates. Let Colony Plumbing, Heating and Air Conditioning save you money and gain efficiency with a Trane Furnace and Air Conditioner. Call us today! 364-HEAT.